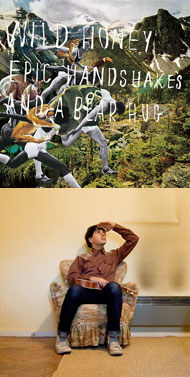 En el programa de esta semana hablamos con Guillermo Farré para presentarnos su proyecto en solitario, Wild Honey. Además hacemos un repaso de lo que dio de sí el Primavera Club. Si no lo puedes hacer a través de Ràdio Tiana, Radio Silenci, Ràdio Caldes o SiS Ràdio, lo puedes hacer como, cuando y donde queráis on-line, descargando el mp3 o a través del Scannerfm.
Tracklist:
Los Planetas "Romance de Juan de Osuna"
The XX "VCR"
The Swimmers "A Hundred Hearts"
Say Hi "November Was White, December Was Grey"
Kings of Convenience "Power of not Knowing"
Wild Honey "Hal Blaine's Beat"
Wild Honey "Isabella"
Jeffrey Lewis & The Junkyard "Whistle Past the Graveyard"
So Cow "So Cow vs. The Future"
Port O'Brien "My Will Is Good"
Standstill "¿Por qué me llamas a estas horas?"
Neon Indian "Should Have Taken Acid With You"